YouTube Hacks: 15 Tricks and Features
This post comes from Hootsuite.
1. Create links that jump to a certain point in a YouTube video
Have you ever sent someone a video but wanted them to skip forward to a specific point? Like when your boss is interviewed in a clip, or—better yet—to that moment when the infamous Cobra Cat earned its moniker?
Rather than giving your viewer a time to fast-forward to, you can easily create links that automatically jump to the desired point in a video.
There are two ways to go about doing this.
How to use the share button:
Go to the video and click Share (located under the video's title)
Under the first tab that pops up (also called Share), check the box beside Start at and enter the start time you want
Or to simplify things, just pause the video at the start time you want and YouTube will autofill the field for you
Shortly after entering your Start time, you'll notice a little tag added to the end of the video link denoting your start-time. In the example above it's ?t=1m41s. Copy the link and share it.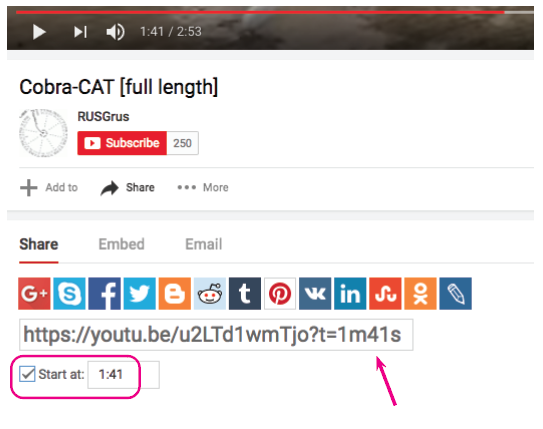 How to copy the video URL at current time:
Pause your video at the specific point when you want it to autoplay and right-click on the screen
From there a pop-up box will appear listing several options
Click on the Copy Video URL at Current Time choice
Your time-specified video link will then be copied to your clipboard for sharing
From there, anytime someone opens your link they'll be taken straight to Cobra Cat's moment of glory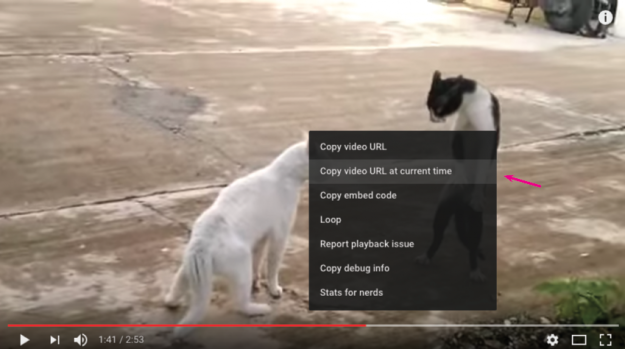 2. See the written transcript for any video
YouTube automatically generates transcripts for every video created on its platform. For the busy social media marketer, there are tons of ways that this function can come in handy—like when you want to pull quotes from an interview or convert a video's script into written collateral.
How to do it:
Go to your video and click More under the video's title
Select Transcript from the drop-down list that appears
Transcript not an option? That means the creator has hidden it
The full transcript will appear below the video.
Keep in mind that many video creators don't edit their transcripts so it might not be perfect.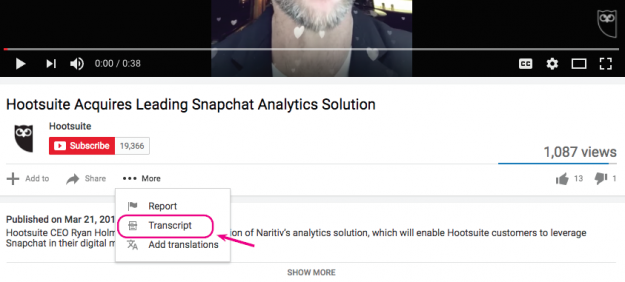 3. Improve your video's SEO by editing or uploading a transcript
Content creators and marketers know that visibility is key. And one of the best ways to improve visibility is through search engine optimization (SEO), which will get your content to appear higher up in online search results.
An easy way to optimize a YouTube video for search engines is by adding a transcript to your video's description field.
How to do it:
To do this, go to your video on YouTube and click on the Subtitles/CC icon beneath the play button ("CC" means closed caption). You'll then be prompted to set your language—set yours to your video's language. Next, you'll be given four ways to add subtitles or closed captions to your video by:
Uploading your transcript as a file. Google (YouTube's parent company) gives a good breakdown of what types of files you can upload.
Typing or pasting in your video's transcript where subtitle timings will be automatically set.
Typing in your subtitles or closed captions while you watch the video.
Paying a professional service to transcribe (or translate) your video for you. To learn more about this service check this resource post out.
4. Share and collaborate on playlists
Adding playlists to your YouTube channel is a great way to help your viewers find and share your videos. Activewear retailer Lululemon uses playlists to sort their videos by a number of categories—including product type and region—making it quick and easy for their fans to find videos of their interest.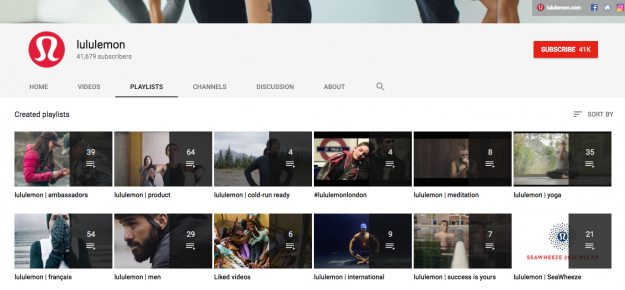 How to create a playlist:
Click on the Video Manager icon located above your banner on your channel's main page
Next, click on Playlist on the left-hand sidebar and then on New Playlists on the top-right side of the page
Give your playlist a title
Check to make it public
Hit Create
Presto bismo, you've created your first playlist
To add a video to your playlist, you can go about it in two ways—either while you're watching it or while you're in your Playlist page.
How to add a video while viewing:
Simply click the Add To icon located under the video's play button
Select the playlist you want from the drop-down menu
How to add a video from the playlist page:
Go to the specific playlist you want to add to
Click Add Videos at the top-right of the page
From there you'll be prompted to add a video via one of the three methods: by video search, by URL, or by one of your existing YouTube videos
Choose the option you're after and hit Add Videos
Now to get real fancy—you can also invite friends and other viewers to collaborate on your playlists.
How to invite users to collaborate on playlists:
Go to your Playlists page
Select the playlist you want to add people to
Click-on the Playlist Settings icon (located to the right of your Playlist's thumbnail)
On the next window that appears, click on the Collaborate tab
Turn the Collaborators can add videos to playlist option to on
Copy the link that's generated and send it on over to your collaborators
Anyone who receives your link will now be able to freely add and modify videos within that playlist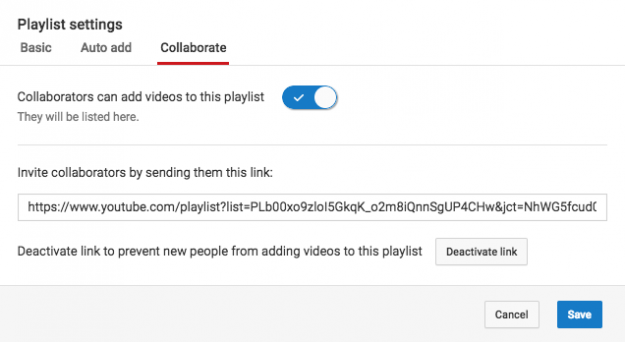 5. Save videos to watch later
Ever found yourself deep down a research rabbit hole when an amazing video catches your eye? Rather than lose your focus, wouldn't it be great if you could earmark it to watch later. Rest easy, social media friends. Now you can with YouTube's Watch Later feature.
Similar to Facebook's Save Video feature, YouTube's Watch Later feature makes it easy to save videos on the fly for a later viewing.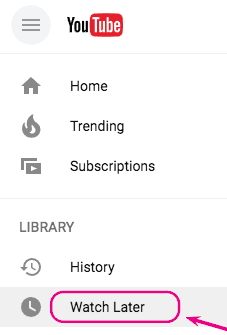 How to add videos to Watch Later:
Simply click on the Add To icon under the video's play button (just like when adding a video to a playlist)
Select Watch Later from the pop-down box
To view your saved videos, just go to your YouTube's homepage (click on the three horizontal bars at the top-left of your page to get to it) and choose the Watch Later field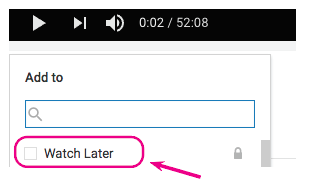 6. Boost engagement by adding a card to your video
In social media marketing, engagement is key to success. It's not good enough for a fan to see your content, you want them to interact with it too.
Thanks to YouTube's cards feature, your audience can now easily engage with your videos.
YouTube cards are essentially little pop-up boxes that can be added to your videos to draw the viewer's attention to another area of interest—like other videos, channels, your website, and even polls. They're also friendly in both computer and mobile formats.
How to do it:
Click on your channel icon and go to the Creator Studio
From there, click on the Video Manager option that appears on the far left-side of your YouTube homepage
Next, go to the video you want to add the card to and click on Edit
Click on the Cards option that appears in the drop-down menu
Click on the Add Card button and select the type of card you want to add—you'll be given a list of options
Once you've created your card, you'll able to move it to the spot you want it to appear in the video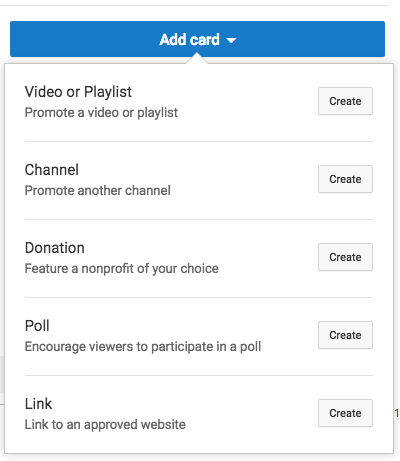 7. Add an end screen to promote your other videos
The longer you can keep your viewers engaged the better chance you have at driving home your campaign. A great way to do this on YouTube is through end screens. Not sure what we're talking about?
End screens are images that appear during the final five to 20 seconds of a YouTube video. They're used to promote other videos or content.
You've likely seen many of your favorite musicians use them to draw you to their other songs—like the one placed at the end of LP's Tightrope video.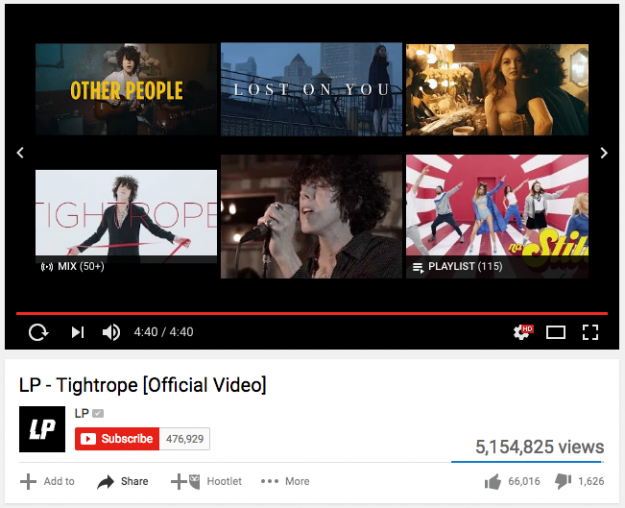 How to do it:
Go to your Video Manager
Click Edit next to the video you want to modify
Pick End screen & Annotations from the drop-down box
From there you can experiment with how you want your end screen to appear by:
Adding an element: Select the element you want to add (you can choose four) and click Create Element
Importing from the video: Simply copy the end screen from another one of your videos and import it into your existing video
Using a YouTube Template: Google provides a series of end screen formats that you can use to help build your end screen
8. Create a Custom YouTube URL
You've worked hard to give your fans a seamless experience across all your social media channels and YouTube should be no different. Now you can make your channel easy to remember with a customized URL. These can incorporate your company, campaign, or product name. We've kept it simple at Hootsuite by going with: https://www.youtube.com/hootsuite
Of note, not all channels are eligible for a custom URL. To be eligible, your channel must:
Have over 100 subscribers
Be at least 30 days old
Have an uploaded photo as your channel icon
Have uploaded channel art.
Learn more about YouTube's URL eligibility requirements, on the platform's help page.
If your channel meets the eligibility requirements, you'll see a URL eligibility prompt listed in your Advanced account settings.
Important to Note: Make sure that you're 100 percent satisfied with your customized URL name before saving. You won't be able to make any changes to it once it's created.
How to do it:
Click on your Settings icon on your YouTube page and click Advanced under your account name
Next, you'll see a You're eligible for a custom URL prompt (only visible if you're channel is eligible)
A Get a custom URL will then appear showing the custom URL Google has approved you for
Click on Claim here and agree to Google's Custom URL Terms of Use
Make sure you're completely satisfied with the URL (remember you can't change it) and click Confirm Choice
And just like that, you've created a custom URL that your audience can easily reach you at.
9. Add royalty-free sound effects and music to your video
YouTube's Audio Library is packed with great quality sounds and music. It's a great resource for any creative looking to add more flare to their videos, and better yet, all files are royalty-free!
How to do it:
To select music or sounds from YouTube's Audio Library, go to your Creator Studio
Click on Create
Choose the Audio Library from the drop-down
A screen will then appear revealing the bountiful world that is the YouTube Audio Library—music and sounds are organized by tabs at the top left of the screen
Once you've found your musical ditty, simply click on the track's download arrow and save it to your computer for use
10. Schedule a video for publishing later
Maybe your business is ready to upload a series of videos, but you don't want to bombard your subscribes with a series of updates in a short window.
If you manage your YouTube channel using Hootsuite, you can easily upload video and then save it to publish later.
How to do it:
Watch the how-to video to learn how.

Learn how to get even more out of Hootsuite with free social media training from Hootsuite Academy.
11. Create a fancy photo slideshow on YouTube
YouTube content doesn't have to be strictly video. The slideshow feature makes it quick and easy to compile photos into a pleasing presentation.
How to do it:
Click the Upload button on the top-right side of your YouTube page (look for the upwards pointing arrow)
A video uploader screen will appear
Click Create under the Photo Slideshow heading
From here, you can start uploading the photos you want from either your computer or an existing Google+ folder
Once you've uploaded all your images, click Select at the bottom left of the screen
Drag and drop your images to get them in the order you want and hit Next
You'll then be taken to a preview of your slideshow set to YouTube's default settings—all of which you can easily adjust
Now to add some audio to really jazz up your slideshow—pick a track from the audio library located under Audio
Want things kept silent? Simply select No Audio to play your slideshow without music
Once you're happy, just hit Upload and wait for YouTube to process your slideshow
To learn more about YouTube Slideshows, check out this resource page from Google.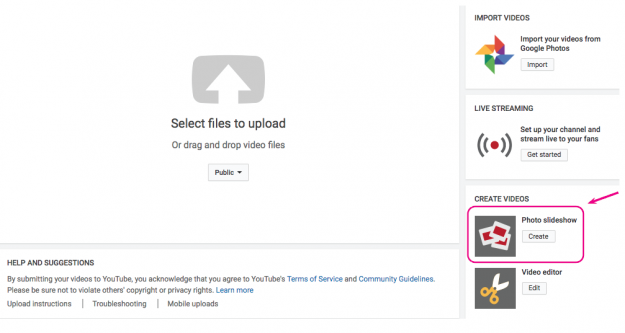 12. Create a live stream straight from YouTube
Got a webinar or presentation coming up that you'd like to live stream? Brace yourselves, you can do it straight from YouTube.
Big brands, like learning experience company Mindvalley Academy, have been choosing YouTube for a while now to stream their flagship events as an easy way to interact live with their global audiences.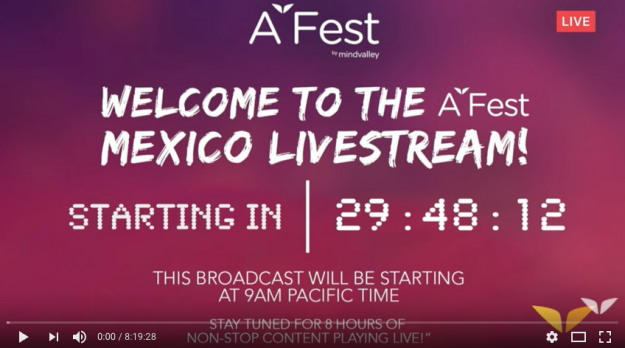 How to do it:
Before you start, YouTube will ask you to check that your channel is verified and that you've been free of live stream restrictions for the past 90 days.
Once you've enabled the above, you'll have two options to set-up your live stream: Stream Now and Events. Begin by going to the 'Upload' button on your YouTube homepage and click Get Started under the Live Streaming section.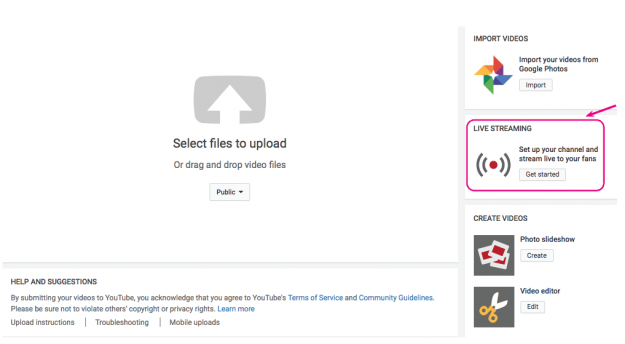 From there you'll be taken to the Live Streaming section of your Creator Studio.
How to Stream Now:
YouTube will automatically default to the Stream Now option—the easier to use of their live streaming set-ups.
To get your Stream Now started you'll have to first download and set-up an encoder. Google provides more information on setting up and using the encoder.

How to use YouTube Events:
YouTube Events gives you better overall control of your live stream than the Stream Now option. With Events you'll be able to set your privacy options and start time, enable backup streams, and create multiple simultaneous live events.
To get started, click on the Events tab in your Creator Studio and fill in the required details under the Basic Info tab.
For more detail on setting up your Events stream, have a look at this Google resource.
13. Upload a 360-degree video on YouTube
YouTube 360-degree videos have exploded in popularity since their debut in 2015. Big brands and celebrities alike are using the feature to produce some truly breathtaking videos. Just take a look at this vertigo inducing video from Yves Saint Laurent.
But you don't need to be a big fancy brand to share your 360-degree content. With the right equipment and a bit of technical know-how you too can awe your audiences with an immersive video experience.
To get started, you'll first need to acquire a camera with 360-degree functions. Currently, Google is compatible with three models:
For the technical nitty-gritty on getting your 360-degree video set-up and published, check out this Google resource page.
14. Watch ad-free and offline videos with YouTube Red
Can't stand those ads clogging up your YouTube viewing experience? Well there's a way to banish them from your life for good with subscription service YouTube Red.
Much like Google Play or Spotify, YouTube Red gives you an ad-free video and audio experience for a small monthly fee (currently $9.99). Better yet, you can save those videos to watch offline—goodbye boring in-flight entertainment!
15. Watch a 'safer' version of YouTube with YouTube Kids
Worried about what videos your munchkins have access to at home?
With YouTube Kids you can control what they see with ease. Unlike the standard YouTube, Google built the kid version using filters to weed out any non kid-friendly content. Oh, and it's totally free!
To get started, simply download the app (it's Android and iOS friendly) onto your child's device. Once downloaded, you can further define your child's viewing experience by setting-up how long they're able to view at a time and determining if they can freely search for content.
And that's it.
Hopefully these 15 YouTube hacks and tricks will set you off on the path to an even richer YouTube experience. For tips on building your YouTube channel's profile, check out our post on 11 Smart Ways to Promote Your YouTube Channel.