The Best Time to Post on Instagram in 2019 (and the Worst)
Our friends from Kicksta have released an updated guide for the best time to post on Instagram in 2020. If you're unsure of where to start in terms of posting on Instagram, don't fret. Read The Best Time to Post on Instagram For Your Industry in 2020 (A Complete Guide) by Kicksta.
This post comes from Hootsuite's blog.
Is there really a best time to post on Instagram?
Since Instagram switched to an algorithm-based feed in 2016, the question of timing has become especially fraught. If posts don't show up chronologically, does the time you post them even matter anymore?
The answer is yes, to an extent.
The Instagram algorithm favors "recency" when it determines which posts you will see in your feed. Though no longer strictly chronological, it's designed to serve you fresh content that you're likely to engage with.
That means newer posts are more likely to appear in your feed first, no matter how many times you refresh it.
What does this mean for brands? You need to make sure your posts are "recent" when your followers are most likely to be online.
That way, they'll be more likely to see, like, and engage with your content.
Below, we'll show you the best time and day of the week to post on Instagram based on your industry, using data from 258,956 posts and the top 20 Instagram accounts in North America from 11 different industries.
We'll also show you how to use this data to inform your publishing schedule.
Bonus: Download a free checklist that reveals the exact steps an adventure photographer used to grow from 0 to 110,000 followers on Instagram with no budget and no expensive gear.
When is the best time to post on Instagram?
One easy way to find out when your followers are online and most likely to engage with your content is by digging into your Instagram analytics.
But it's also helpful to find out what times work for other brands in your industry, especially if you're starting from scratch.
Using data from Unmetric, a social media benchmarking tool, we analyzed the top 20 Instagram accounts in 11 different industries over the span of 18 months to find out when their posts received the most engagement.
Remember: timing can't make up for bad content. As a metric, timing should only be used to boost Instagram content that is already optimized to perform well.
Also, just because these are the "best times to post" doesn't mean you can't post content at any other time. A solid Instagram strategy makes room for lots of experimentation and testing.
Your brand and your audience are unique. What works for some brands may not work for others (i.e., YMMV).
These timing recommendations work best as starting points and are meant to be supplemented with internal data. They are timezone agnostic.
Travel & Tourism
Friday between 9 a.m. and 1 p.m.
According to Unmetric data, brands in this industry experienced the most engagement with their Instagram content when they posted at 11 a.m. or 1 p.m., but also 9 a.m. and 10 a.m. (in more recent quarters).
On average, Friday was the best performing day for Travel and Tourism brands on Instagram, followed by Tuesday and Monday.
Likely, followers of these accounts are primed to engage with travel content as they plan their weekends. On Monday and Tuesday, however, they might be reminiscing about their time on the beach or the slopes.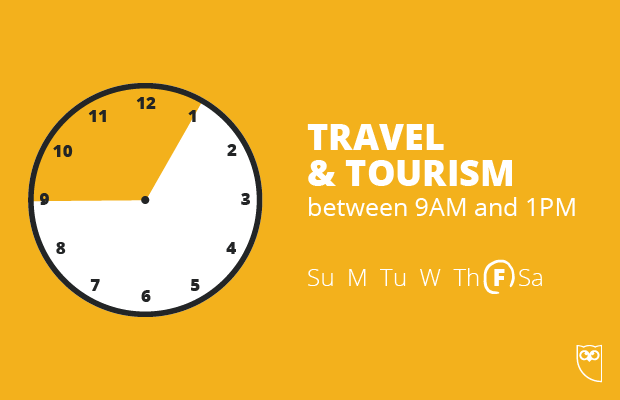 When not to post: If you're starting fresh in the Instagram travel industry, avoid posting after 1 p.m. Also steer clear of weekends, when your followers are having their own adventures #irl.
Brands included: Disneyland, Walt Disney World, The Museum of Modern Art, The Met, Beaches N Resorts, Guggenheim Museum, Trip Advisor, AirBnb, Disney Cruise Line, Four Seasons, Royal Caribbean, Carnival Cruise Line, Ritz Carlton, Norwegian Cruise Line, Space X, Emirates, Qatar Airways, Airbus, LATAM Airlines, Singapore Airlines
Media & Entertainment
Tuesdays and Thursdays from 12 to 3 p.m.
According to Unmetric data, the top 20 Instagram accounts in Media and Entertainment experienced the most engagement when they posted at 2 p.m. and 3 p.m., followed by 12 p.m. and 1 p.m.
Audiences are likely scrolling through their feeds during lunch hour and into the old "afternoon slump," looking for a burst of inspiration or humor to get them through the rest of their day.
Tuesdays and Thursdays are the clear winners for engagement by day-of-the-week in this industry. But Mondays and Saturdays are also strong performers.
This could mean any number of things, but followers likely find media and entertainment Instagram content engaging regardless of the day it's posted on. That it's served to such a large audience means that this category has to account for a wide range of usage behaviors, too.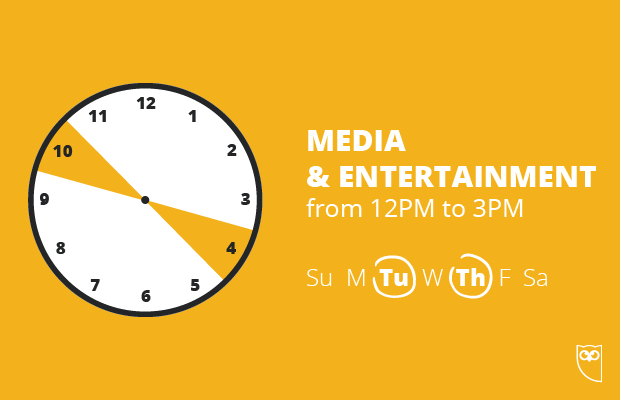 When not to post: Mornings.
Brands included: National Geographic, E! News, ESPN, Tasty, Humans of New York, Bleacher Report, BuzzFeed, Vogue, Playboy, HYPEBEAST, TIME, 9GAG, Marvel Entertainment, EA Sports FIFA, Disney, Netflix, Ellen, SportsCenter, Lonely Planet, Epic Reads
Food & Beverage
Fridays at 12 p.m.
This one's hardly a surprise. Top accounts in the food and beverage industry have the most success posting at 12 p.m., when many people are taking a break from their workday to consume, well, food and beverages.
Whether they're looking for inspiration, motivation, or something tastier than their own #saddesklunch, lunch hour is the clear winner in terms of engagement. If your brand only posts once a day, this is the time to do it.
Fridays are the most engaging day of the week, on average. But, Wednesday, Thursday, and Saturday, are also strong contenders for this industry.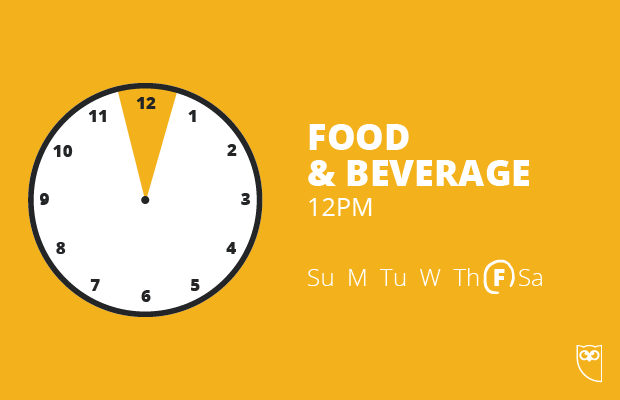 When not to post: Newcomers to this Instagram community should avoid posting outside of mealtimes.
Brands included: Redbull, So Yummy, Monster Energy, Coca-Cola, Flavorgod Seasonings, Oreo, CakeGuide, Food52, Dom Pérignon, Moët & Chandon, Corona, Starbucks Coffee, McDonalds, Burger King, Dunkin', Pizza Hut, Domino's Pizza, KFC, Taco Bell, Chick-fil-A Inc.
Retail
Tuesdays, Thursdays, and Fridays at 12 p.m.
Lunch hour is also popular outside of the food and beverage industry. Top retail brands have the most success engaging their Instagram followers at this time too, especially on Tuesdays, Thursdays, and Fridays.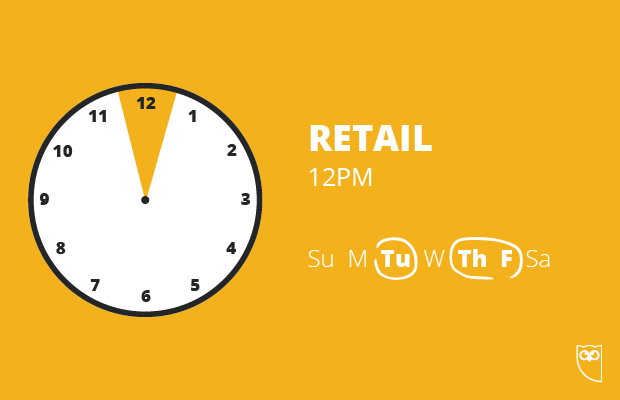 When not to post: If you're just starting a retail-focussed Instagram account, avoid posting outside of the lunch hour window, a.k.a, 11 a.m. to 1 p.m.
Brands included: Nike, Victoria's Secret, Nike Football (Soccer), adidas Originals, Zara, H&M, Adidas Football, Footlocker, ASOS, boohoo.com, Target, HomeGoods, Nordstrom, Who What Wear, AliExpress, Chanel, Gucci, Louis Vuitton, Dior, Dolce & Gabbana
Professional Services
Friday, Tuesday, and Wednesday at 9 a.m. or 10 a.m.
On average, top professional services brands seem to have the most luck posting early on in the workday, especially on Fridays, Tuesdays, and Wednesdays.
These types of companies often post useful educational content to their Instagram feeds, such as links to blog posts or videos. Likely, people prefer to consume this type of content earlier in the day rather than later. And while they're at work, already in the mood to do so.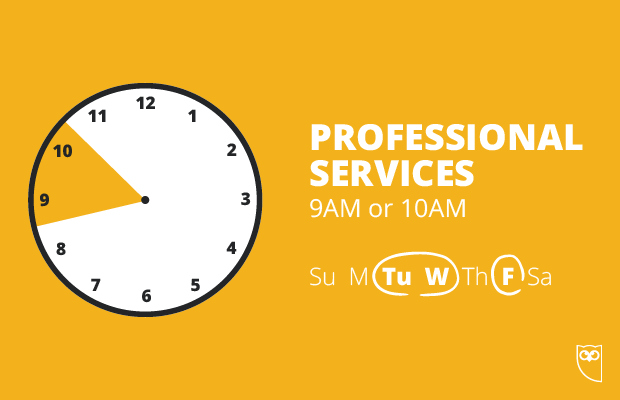 When not to post: If you're a brand new professional services account, avoid posting on weekends and evenings, unless your data tells you otherwise.
Brands included:Lootcrate, Roam, Progressive Calisthenics, Pursuit of Portraits, Ogilvy, Later.com, Wieden+Kennedy, MAKERS, VaynerMedia, Leo Burnett, Huge, TBWA WORLDWIDE, Hootsuite, AKQA, McKinsey & Company, Accenture, 72andsunny, Deloitte, DDB Worldwide, Droga5
Non-profit
Tuesday at 4 p.m. or 10 a.m.
Unmetric's data shows that the top 20 non-profit brands on Instagram have had the most success, on average, posting at 4 p.m.
But for the first half of 2018, followers engaged the most with content posted at 10 a.m. So consider both 4 p.m. and 10 a.m. when crafting your own Instagram schedule.
Content posted on Tuesdays received the most engagement, but Wednesdays, Thursdays, and Fridays were also high performers.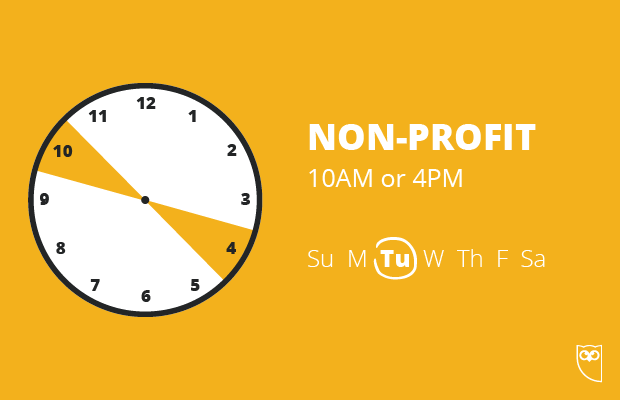 When not to post: unless your analytics show otherwise, non-profit brands should avoid posting outside of business hours on Mondays, Saturdays, and Sundays.
Brands included: TED Talks, UNICEF, World Wildlife Fund, WWF International, Malala Fund, Greenpeace International, UNESCO, TeamUSA, Oceana, UNWomen, Save the Children, Ducks Unlimited Inc, Love Your Melon, UN Refugee Agency, James Beard Foundation, The Nature Conservancy, UN Environment, Planned Parenthood, Charity Water, UNICEF USA
Non-retail e-commerce
Thursday at 9 p.m. or 4 p.m.
The top non-retail e-commerce brands have the most success posting on Instagram at night and in the early evening on all weekdays, but especially Thursday. 9 p.m. was the most successful time, followed closely by 4 p.m.
This category includes brands like Bumble, Tinder, Grindr, and Match. It's possible that followers are most primed to engage with entertaining, romance-focussed content after work.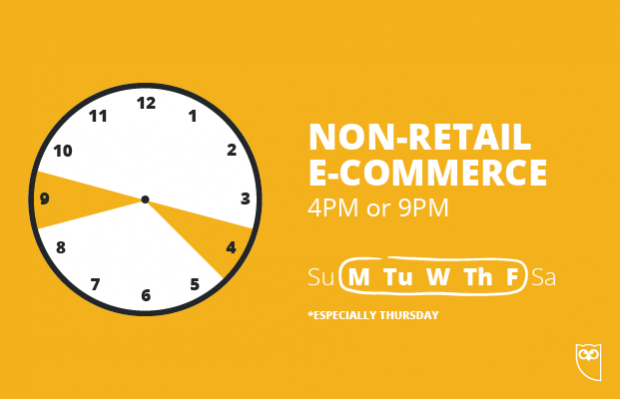 When not to post: New brands in this space should consider not posting during their followers' workdays.
Brands included: Bumble, Groupon, Kickstarter, Tinder, Sotheby's International Realty, Grindr, Postmates, Zoosk, Zomato, Omaze, Match, Ticketmaster, Hinge, Ibotta Inc., Yelp, Seatgeek, Ancestry, Eventbrite, Foodler, Grubhub
Pharma & Healthcare
Wednesday and Sunday at 9 a.m.
The top brands in this category are largely fitness-focussed accounts and their followers tend to engage the most with content posted on Instagram at 9 a.m.
Wednesday and Sunday are the top performing days. This is likely when people are looking for a motivational boost (in the middle of their workweek, or before the workweek starts). But Monday and Saturday are also high performers.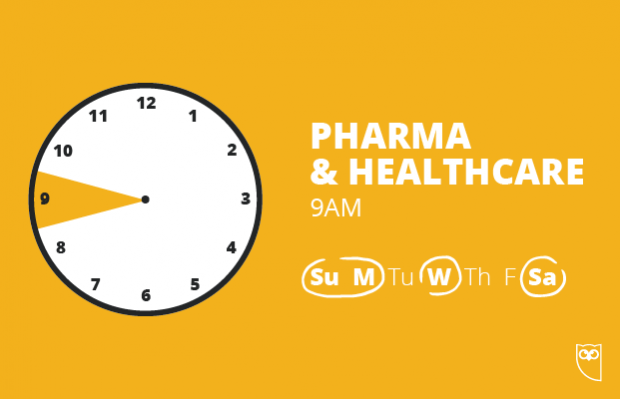 When not to post: Always take time to experiment, but avoid posting outside of morning hours if you're looking for tons of engagement.
Brands included: Fit Girls Guide, Instagram Body Building, Healthy Fitness Meals, How To Meal Prep, Home Workouts For You, CrossFit, Fit Healthy Recipes, Ab Workouts, Shredz, Ig_WeightLoss, GYM HELP, FitTea, Flat Tummy Co, Tone It Up, Fitness Motivation, How To Get Abs, Zumba, Skinny Bunny Tea, The Squat Guide, Glutes
Personal Care
Friday and Thursday at 1, 2, or 3 p.m.
Largely cosmetics-focussed, the top accounts in this category find the most success posting in early afternoon near the end of the workweek. However, Tuesdays and Wednesdays are also good options. Save your best content for these times and days.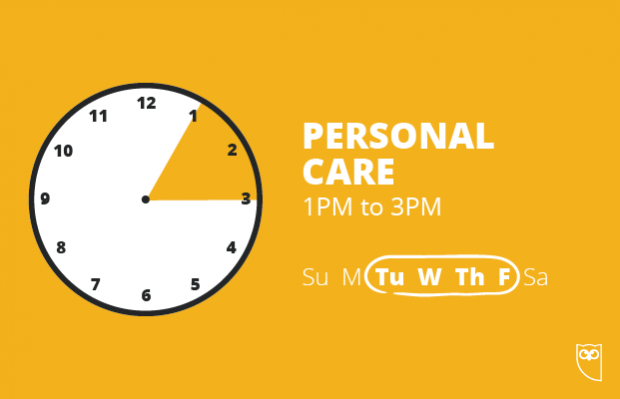 When not to post: New brands in this space should avoid putting a lot of effort into posting on weekends or outside the afternoon.
Brands included: M·A·C Cosmetics, Anastasia Beverly Hills, Kylie Cosmetics, Sephora, NYX Professional Makeup, Too Faced Cosmetics, Urban Decay Cosmetics, Tarte Cosmetics, Benefit Cosmetics, Maybelline New York, Morphe Brushes, ColourPop Cosmetics, NARS Cosmetics, L'Oréal Paris Makeup, FENTY BEAUTY BY RIHANNA, Ulta Beauty, Kat Von D Beauty, YSL Beauty, Makeup For Ever, Smashbox Cosmetics
Technology
Monday and Tuesday at 2 p.m.
The top tech Instagram accounts get the most engagement, on average, when they post on Tuesday at 2 p.m. More recently, however, their top performing day has switched to Monday. Both days are good options to post.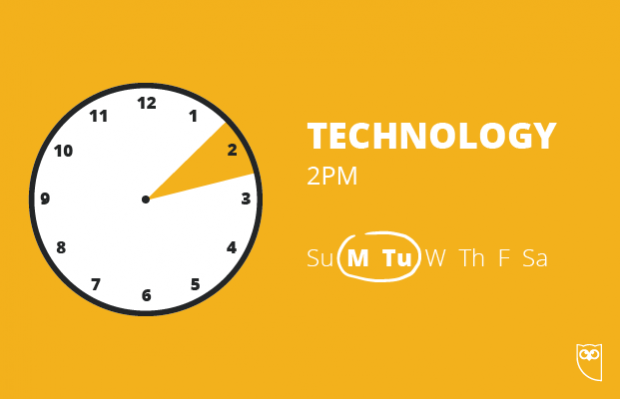 When not to post: There's no reason not to experiment with your posting schedule. Just make sure you also post on Monday and Tuesday at 2 p.m.
Brands included: Instagram, YouTube, Apple, Google, Vevo, Facebook, Adobe Photoshop, Microsoft, iTunes, Windows, GoPro, PlayStation, Xbox, Sony, Nintendo, Beats by Dre, Samsung Mobile, OnePlus, Sony Mobile, HTC
Education
Thursday at 4 p.m. or 5 p.m.
Everyone knows the weekend begins on Friday for university students. So, if you're a post-secondary educational institution (like many of the top accounts in this space), make sure you catch your followers before they tune you out: on Thursday at 4 or 5 p.m..
However, Fridays and Wednesdays are also high performers for educational institutions on Instagram. Some people are paying attention on Fridays, it seems.
11 a.m. and 12 p.m. are also good options for timing.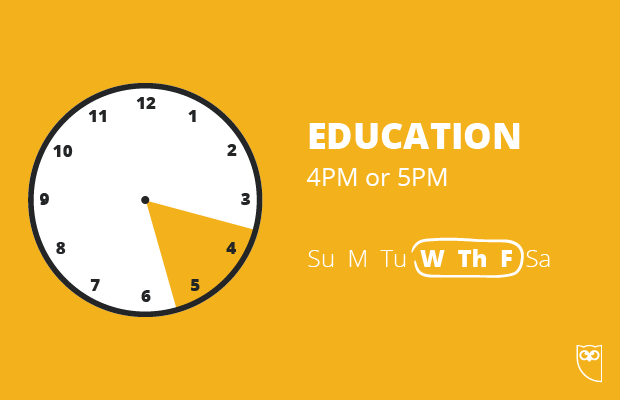 When not to post: It's probably best to stay away from early mornings and weekends, but anything is possible.
Brands included: Harvard, Smithsonian, Stanford, Teachers Pay Teachers, New York Public Library, Skillshare, Harvard Business School, We Are Teachers, Yale, Udemy, Princeton, Texas A&M University, University of Michigan, Goodreads, UCLA, Bluprint, Ohio State University, Columbia University, New York University, Full Sail
Instagram timing best practices
1. Know your audience (location, habits, etc.)
It can't be stressed enough. Knowing your audience is critical to your success on Instagram.
Even a cursory glance at your Instagram analytics will show you what time they are most often using the app, their basic demographics, and what kind of content they like best.
Most importantly, your Instagram analytics will tell you what timezone the majority of your followers reside in. Use the timing recommendations above in accordance with that timezone for best results.
2. Always be testing
Don't limit your Instagram posting schedule to only "the best times." It almost goes without saying, but things change.
The demographics and habits of your audience are in flux. The Instagram feed algorithm is likely continually under revision. There's no true way to "set it and forget it" in social media.
Hootsuite's social team is always testing different posting times on their feeds, outside the ones they already know work well (1 p.m. on Instagram). Because of this, they discovered that Twitter content posted in the early hours of the North American morning performs well with audiences outside our own timezone.
If they hadn't taken a risk and tested it, we would be missing thousands of eyeballs on our blog content every day.
Pro tip: Test new times at least twice to make sure an Instagram post's success is not just about its content.
3. Optimize your content
Timing isn't the only factor in a post's success. If your goal is to effectively engage your audience on Instagram, you'll need professional looking photos, catchy captions, and smart hashtags too.
If you want to go a step further, consider optimizing your posts for Instagram shopping, and create an effective landing page on which followers can browse your products.
4. Schedule your posts in advance
Using a social media scheduling tool like Hootsuite means you never have to miss posting at the "best time," even if you're on vacation or asleep at your desk. Hootsuite's post composer also suggests optimal times to post based on your account's built-in analytics.