Increase Social Engagement by Using These 5 Psychology Tips
This post comes from Hootsuite.
Ahh, psychology. It's all the rage these days.
For good reason. Understanding how your customer's (and your own) brain works can help you provide better content and increase social engagement.
Because of all that, we now have fancy-pants fields like neuromarketing. But, what about neurosocial? (Is that even a word? If not, I'm coining it.)
In this post, I'll reveal fascinating concepts in psychology and explain how you can use them to increase your social engagement and website sales.
Ready to pick apart the brain? Let's dive in.
1. Grow traffic by 50% with social proof
You're probably not surprised to see social proof on this list. It's a powerful psychological tool that helps build trust between brand and customers.
Think about it—when you see great reviews of a brand, are you more likely to buy from them, or at least follow them on social media and engage with their content?
Don't take my word for it.
YotPo conducted a study on the consumer decision making process of 500 different sites. They found that when those sites added social reviews to their website, their traffic increased 50 percent on average, over the next three months.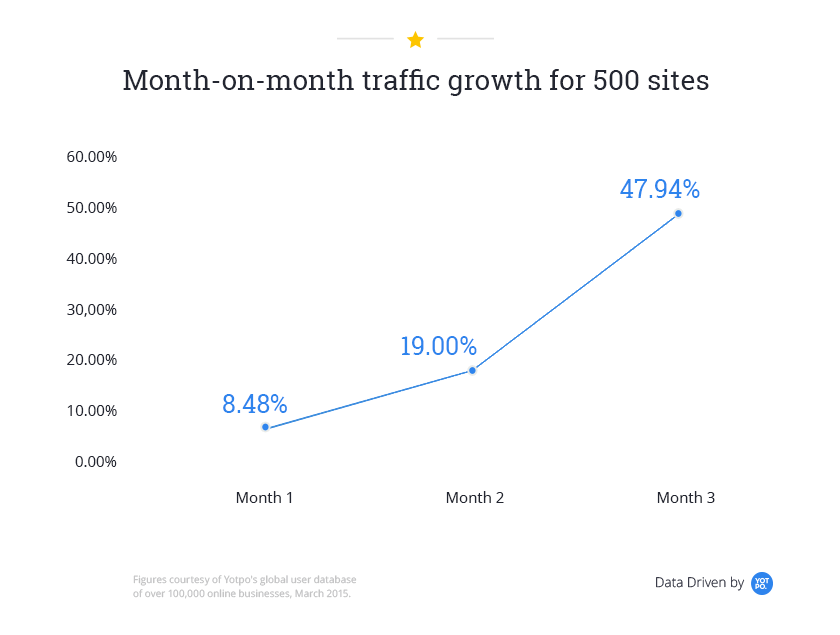 But the question is… why? What makes reviews work?
What psychology has to say
In the field of psychology, social proof is the concept that people will conform to the actions of others under the assumption that those actions are reflective of the correct behavior.
In other words, people assume other people's actions and opinions are normal and should be followed. Therefore, seeing a positive review instills in us a desire to copy that person's action of sharing that content, following that page, or buying from that site.
We tend to listen to those reviews, especially when we're on the verge of committing to buy a product or take social action, like commenting or sharing something.
According to Social Psych Today, when people agree with us, our opinions grow stronger; when people disagree with us, our opinions grow weaker.
So, if we're ready to commit to a purchase (or, in our case, commenting on or sharing a social media post), we're more likely to take the plunge if other people have confirmed our decision as a good idea by taking that action themselves.
To make things even more interesting, it seems many people ignore five-star reviews and are actually more likely to purchase products (or stick with brands) with a few negative reviews. I guess people don't believe a product can be perfect!
How to implement these findings
Putting this knowledge into action isn't particularly difficult. All it requires is two small changes:
Encourage users to provide reviews

 

of your products or business
Display those reviews for all to see (especially via social media)
YotPo also found some interesting stats around displaying reviews on social media as acustomer engagement strategy: adding reviews to Facebook boosts customer's time on your site by 9.9 percent and adding reviews to Twitter boosts time on site by 35 percent.
2. Gain millions followers using personality
Being social means showing your true colors. But, just how far should you take that?
Well, I'm sure you're familiar with Flo, insurance company Progressive's fun-loving mascot. But, did you know that Flo has her own Facebook page? Furthermore, did you know she has nearly 5 million followers?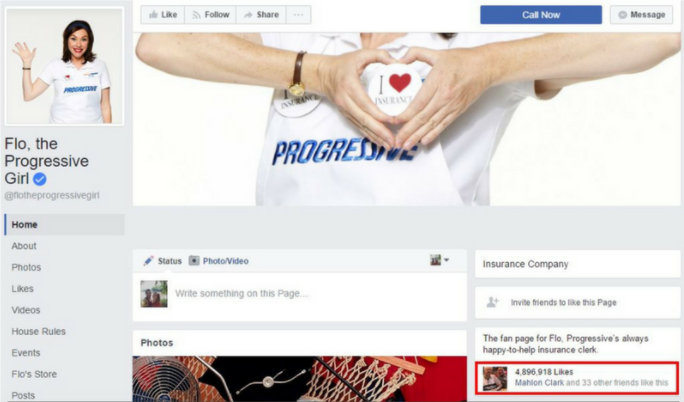 Compare that with Progressive's 380,000 followers and you see just how powerful personality can be.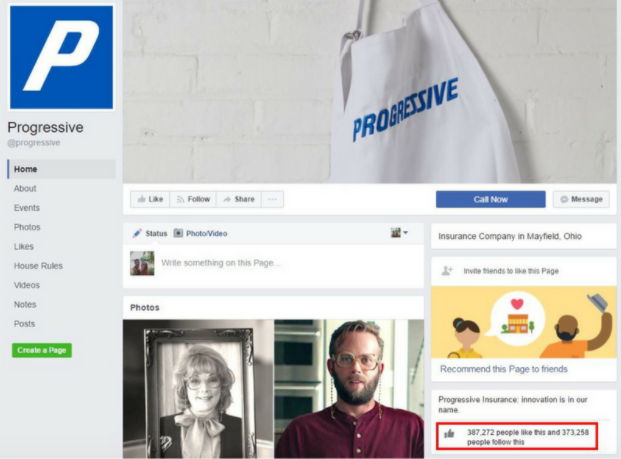 What psychology has to say
According to one study, it becomes easier for people to identify with brands as they become more human-like. Meaning, there's a personality and a face to the brand.
That's not all. One of Robert Cialdini's famous six principles of persuasion states that people are more likely to buy from people they like. So, if they like your brand, they're likely to buy from, or engage with, you on social media.
How to implement these findings
So, how do you add personality to your brand? Try these tips:
Use pictures of your team in your posts and in your social media header images
Sign Tweets behind a brand with a team member's initials or name
Give your brand a mascot
Let your support team connect with customers one-on-one with their real names and identities
One of the biggest benefits of letting real people connect with your customers is the joy and laughter that often happens as a result.
3. Bond with followers using laughter
Laughter acts as a social glue that bonds people (and brands) together. You see, when you make someone laugh, it releases endorphins in that person's brain, which makes them happier and literally changes their perspective of the world.
Think about the last time you were in a crabby mood. Maybe you were hungry, maybe your boss just gave you a huge deadline, or maybe your spouse forgot to clean the dishes.
Now, think to a time you felt that way and someone (or something) made you laugh. Changed your mood entirely, didn't it?
At the very least, laughing made you slightly happier and more tolerant of the situation. Now imagine it was a business's Tweet that made you laugh. Chances are, you shared the Tweet—or at least hit that like button.
That seems like a small act. However, you now have a stronger bond with that brand.
What psychology has to say
According to Cialdini, when you hit that like button, you've just started a chain in your brain's consistency bias. Meaning, because you've taken an action—associating yourself with a particular brand—you're now more likely to continue to take positive actions with that brand in the future.
Otterbox does this brilliantly with their April Fool's joke video.
How to implement these findings
Alright, I can't teach you how to be funny. What I can do, however, is give you a few pointers:
1. Be honest. Talk about real-life things that actually happened. Be like Charmin.
2. Don't take yourself too seriously. Have a little fun.
3. Involve your customers. Or at least, random strangers on the street.
4. Boost sales by 300% with reciprocity
Reciprocity is one of the most powerful psychological principles you can leverage.
People love getting free stuff, and they'll often return the favor by engaging with you and even making a purchase. That's what makes social media contests and giveaways so effective—people want cool swag.
For example, Catan Boards—the creator of amazing board games like Settlers of Catan—ran a contest. The company gave away some awesome prizes, like a Reversible Custom Beech five to six Player Catan Board (which wasn't available publicly), free Settlers of Catan Games, and even a Catan Baking Set.
In order to promote their contest, they used a point system where users could take various actions to acquire more entries to win.
By offering people free entries and free swag, Catan Boards made them want to reciprocate by liking, sharing, and commenting on the company's social media posts.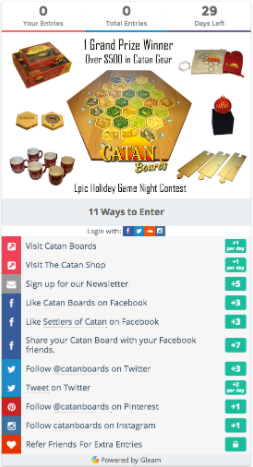 The results of this contest? A 132 percent increase in engaged Facebook fans, a 313 percent increase in Twitter followers, and a 300 percent increase in sales.
But why does reciprocity work so damn well?
What psychology has to say
Reciprocity is a social rule that says people should repay, in kind, what another person has provided for them. But, why?
Basically, reciprocity was ingrained in us as an evolutionary principle to keep us alive. It goes back to our time as hunter-gatherer tribes, when we relied on a small group of people to help us survive.
We learned to share with our tribe members with the assumption that an act of kindness would be returned at some point. Maybe this week I brought back a deer… my family can't eat the whole thing before it spoils, so we share it with the tribe. Next week, you have a successful hunt and return the favor. It makes sense to reciprocate.
If you didn't return favors, especially back in tribal times, you could be ostracized from the group, and likely die. Reciprocity is rooted in life and death from the time of our ancestors.
How to implement these findings
Alright, enough of this history lesson. What does hunting and sharing have to do with social media engagement?
I'm not suggesting you go hunt some deer and send it to your customers (although, that would certainly make you stand out). What I am suggesting is that you try the following:
Give away exclusive free trials to your social media followers
Send handwritten thank-you letters to your top engagers (bonus points if you send stickers)
Share your followers' blog posts and tag them
Comment on, like, and share your fan's social media posts (this is a two-way street, after all)
Surprise your customers with cool gifts like shirts, hats, or even beef jerky
You can use a tool like ThankBot to send handwritten letters to all of your customers.
5. Partner with influencers for thousands of shares
I can't mention psychology without talking about the importance of influencers.
For example, DrumUp managed to get Guy Kawasaki to Tweet about one of their posts. The result? Over 1,000 shares within 24 hours, and several hundred more over the next few days.
The right influencers can make your blog traffic explode and make your social engagement go through the roof.
What psychology has to say
Influencer marketing works for many reasons. One of those reasons is the halo effect, acognitive bias in which we judge someone's opinion based on our overall impression of him or her.
In other words, if we look up to a person, we're more likely to care about what they have to say. Thus, the "Guy Kawasaki effect" we observed in the case study above.
Another reason influencers have such a strong effect on us is the concept of implicit egotism, which states that most people subconsciously like things that "resemble" them in some way.
Studies show that we value the opinions of people we perceive as most like us, and we tend to liken ourselves to the influencers we follow (and take action based on their actions).
How to implement these findings
To get influencers to help you promote your brand, you first have to find the right influencers. Ideally, they should:
Be relevant to your industry or niche
Have a highly engaged social following (engagement is often more important than sheer numbers)
Not be a competitor (duh)
Ideally, have a big email list
Have a blog (or at least a website) with a

 

high domain authority
There are many influencer marketing tools you can use to find the right influencers, including influence.co, BuzzSumo, and NinjaOutreach.
Also, don't be afraid to branch out your search. While Facebook, Twitter, and Instagram are the most popular sites, there are actually over 60 social networking sites you can use to reach more audiences and influencers.
Understanding psychology can give us an upper hand over our competition, help us turn customers into raving fans, and increase our social engagement.
These concepts aren't hard to understand, nor are they very time consuming to implement. You don't have to be a genius, you just have to follow a few simple steps.
I hope you now have a better understanding of the psychology of social media and how to use it for growth. If you enjoyed this article, please give it a share.
If you're interested in learning more about psychology and how you can use it to make your life better, check out these TED talks.