How to (Really) Grow Your YouTube Channel
This post comes from Hootsuite, read the full post here. 
1. Stop hacking. Start promoting.
If you search "how to get free YouTube subscribers," you'll discover a delightful subgenre of social media advice dedicated to 'hacks and glitches for YouTube.' These shortcuts—often sold in sensational headlines like 'how to get millions of free YouTube subscribers'—promise to teach you a hidden trick that will flood your channel with free YouTube subscribers (the truth is YouTube hacks only exist if your definition of a "hack" is a little-known feature).
One of the most popular YouTube tutorials for getting free subscribers comes from a young expert named JustKyptic.
During my research for this post, I have to admit—his headline hooked me. According to Mr. JustKyptic, he's discovered a YouTube glitch that gets you thousands of free YouTube subscribers in just a few seconds.
I had to watch.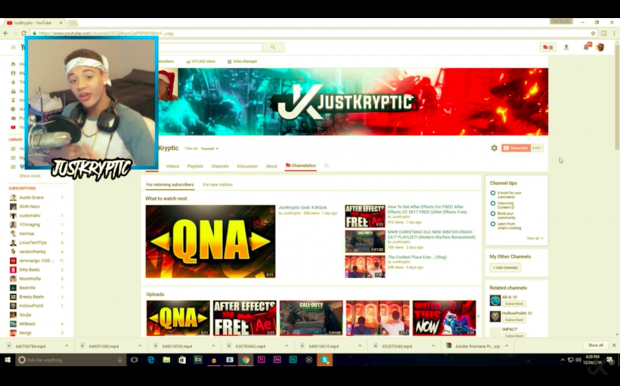 If you watch the video, you'll learn JustKryptic's YouTube hack.
As he shows, you can open up your developer tools in Google Chrome. As you may know, clicking "view" > "developer" > "view source" reveals the HTML source code for any webpage.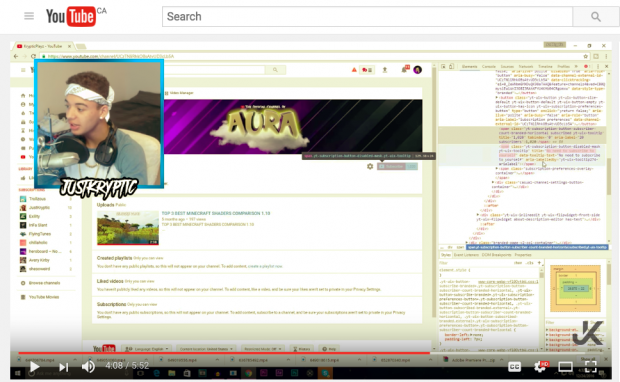 Next, Mr. JustKryptic clicks on the "YouTube subscriber count" button. And with a flick of his wrist, he changes his YouTube subscribers from 500 to 1000. He warns against changing it higher as YouTube might ban your account.
I'm sure you can spot the error?
JustKryptic is only editing the source code on his own Chrome browser. Only he can see that his YouTube subscriber count has increased—this is not a real change made in YouTube but is simply on his own personal browser.
At the end of the video, he admits this is a prank.
I watched five more of these YouTube hack videos. And most followed the same format: they were a prank.
So if you're searching for YouTube hacks, you're likely wasting time. But you still need subscribers.
If you have a new or unknown YouTube channel, you need to gain some sort of traction. Without the attention of YouTube's algorithm, your videos won't appear in search results or appear in recommended lists.
So how can you get the organic ball rolling? I asked this question to Gianni "Luminati" Nicassio, a founding member of the indie-band Walk Off The Earth. Gianni used YouTube to catapult his unknown band into a global act, earning over 634 million organic views from YouTube.
His advice for new YouTube channels? Be ruthless about promotion. "If you're getting started, don't shy away from the grunt work," says Gianni. "Creating engaging content is only half of the process. You need to get ruthless and promote, promote, promote."
"Start with your Facebook friends and shamelessly (but still with some class) ask them to share your video. Then, find out where your audience is hanging out and start targeting those sites. Go to blogs that relate to your content and share your video. Or reply in the comment sections of the related video."
Your task: Stop wasting time looking for YouTube shortcuts. Instead, build a plan to promote your YouTube channel. Start with manual tasks. And once you have some traction, free YouTube subscribers and organic traffic will begin to appear.
2. Follow the 1×4 content schedule
I wanted to know how to build a YouTube following from scratch, so I interviewed Graham Cochrane, the founder of the popular YouTube channel "The Recording Revolution." Cochrane went from unemployed to creating a 7-figure business around audio engineering tips. YouTube has been a key distribution channel for him.
Cochrane says publishing frequency is key.
"The BEST thing you can do with YouTube (or any content creation for that matter) is to make a lot of content and make it consistently. I've made at least one video a week for seven years."
This frequency helps you retain subscribers (another important metric for YouTube) as well as helps you attract new free YouTube subscribers.
"People come to expect your content. You create a dependable rhythm like your favorite TV show. You know it comes on every week. Plus, when you create more content you increase the number of places people find you online. Instead of seeing your brand for one or two YouTube searches, you start to appear again and again in search results."
A simple formula that works is this: 1×4. Publish four YouTube videos every month. That breaks down to one video every week. It's an easy number to remember and you'll soon see new YouTube subscribers trickling in.
Your Task: Commit to a publishing schedule. An easy formula: one YouTube video every week for a total of four a month.
3. Stop talking. Start delivering.
YouTube explicitly states: "channels and videos with higher watch time are more likely to turn up in search results and recommendations."
How can you increase your watch time? There are lots of tips and tricks online. But the most important principle is this: value your viewer's time.
According Gianni Nicassio (the viral master I mentioned earlier), you need to deliver value right away. "We've found that the first eight seconds of your video are the most important. The click-away rate in those precious seconds is staggering. If you make music videos, start playing music right away. If you are teaching something or explaining a product, start delivering information."
Nicassio recommends you skip straight to the content and then promote your products at the end. "Don't tell people about your day, don't talk about other videos that you're making or where to buy the song. Just play the song and tell them the supplementary info after the song or in the description."
Your Task: Shorten your intro. Skip the flashy intro and theme music. Make sure the first eight seconds of every video hook viewers.
4. Convert searchers to subscribers with playlists
You work hard to acquire a first-time viewer. The viewer needs to search for a relevant keyword, see your video in YouTube's results, and click your result. To turn these casual viewers into subscribers, use YouTube playlists. These boost content consumption, retain subscribers, and boost your watch time.
Instead of creating miscellaneous playlists, create a track of content for new users to watch. In other words, treat your viewers as a cohort, segmenting your audience into groups of users that will move through your content.
Create playlists for three types of cohorts:
New viewers—what content should a new viewer watch first? I recommend creating a YouTube playlist that says. "New to this YouTube channel? Watch these first." This playlist needs to introduce the viewer to your channel and deliver your best, funniest, or most helpful videos that will convert them from a searcher to a subscriber.
Task-orientated viewers—If you offer educational content, a large portion of your audience will be looking to solve specific problems. This might be learning a specific skill or fixing a problem. Cochrane (the YouTube expert quoted above), for example, has specific playlists that help his audience complete different music tasks. These playlists increase content consumption as well as remind people that your channel is a good place to look later if they encounter a challenge. You can see Cochrane's playlists below or by clicking here.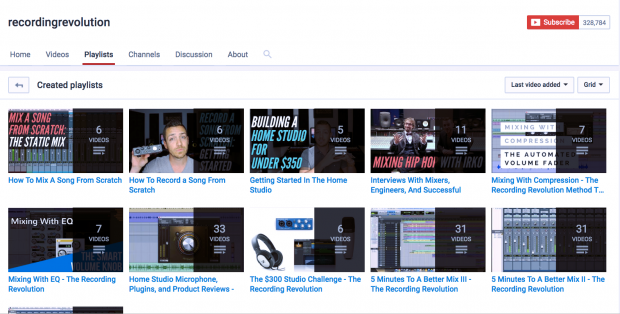 Topic-focused viewers—By creating playlists that comprehensively cover a specific topic, you'll attract one of the most profitable type of viewers: content bingers. These viewers are looking for collections of videos on a specific topic and will methodologically work their way through your playlists. A good example of this comes from Google Analytics' YouTube channel. You can watch a collection of videos on "TV attribution," "Google Data Studio," or master the basics of "Google Tag Manager."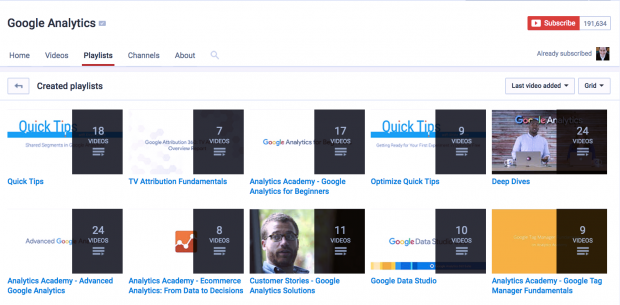 It's easy to create a playlist in YouTube.
Start with a video you want in the playlist
Under the video, click add to
Click create new playlist
Enter a playlist name
Use the drop down box to select your playlist's privacy setting. If it's private, people can't find it when they search YouTube
Click create
Your Task: Create YouTube playlists based on three viewer cohorts: first-time viewers; task-orientated viewers; and topic-focused viewers.
5. Expand your search net with Pinterest
Most of your subscribers will discover your channel by either searching in Google or via YouTube's search bar. Pinterest is also a visual search engine, making it a perfect match for your YouTube strategy.
Not every business or brand is right for Pinterest. To determine whether your customers live on Pinterest download our helpful audience worksheet.
Hire a designer to turn a few of your best YouTube videos into Pinterest-friendly images. For example, if you run a YouTube cooking channel, you might have a Pinterest visual that offers tips for proper knife techniques or quick tips about baking. On each visual asset, link to your YouTube channel and tell people they can watch the full video there.
Collect these graphics and create an SEO-focused Pinterest collection. For example, you could turn your topic-focused playlist into a Pinterest collection. Target a high-volume keyword with your Pinterest collection—such as "Healthy summer recipes" or "Photography 101 tutorial."
Consider investing some budget in Pinterest ads. They are quite effective and will help boost your visibility. This is optional as people will naturally discover your Pinterest collections via search.
Your task: Build SEO-focused Pinterest collections that link back to your YouTube channel.
6. Add a mention in Amazon Reviews
Is your YouTube channel about a product category such as electronic gear? Or maybe it covers a topic that lots of books have been written on such as gardening, arts and crafts, or fashion. Leave reviews on popular Amazon products and mention your YouTube channel.
Let's say you have a YouTube cooking channel. You could leave reviews for popular cookbooks—such as The Joy of Cooking or a new book out by a celebrity chef—and tell people that you'll be testing out a few recipes on your YouTube channel. Or if your YouTube channel is about hiking gear—you can mention that you've reviewed a popular piece of equipment on your channel.
According to Amazon's review guidelines, you're not allowed to post URL links to external sites. So if you include a link to your YouTube channel, your review will be banned.
But you can mention your channel—such as "I also reviewed the Joy of Cooking on my YouTube channel 'Cookin' with James and Owly'"—and gently promote your channel. YouTube also allows you to post video reviews of products. If you leave a video review, end the video with a subtle shout-out to your YouTube channel.
Your task: Find popular books or products related to your YouTube channel. Add a genuine and thoughtful review on Amazon. At the end, mention your YouTube channel. Note: it's against Amazon's policy to include a URL. But you can mention your YouTube channel name so that people can search for it in Google.
7. Promote your YouTube channel with Facebook Groups
Over the last year, I've been rediscovering Facebook Groups. You can find a group for most topics and interests. For example, #TeamofOne is a community of social media consultants and strategists. I also follow a copywriting group, as well as groups related to my hobby of music production.
You can find relevant Facebook Groups by searching "YOUR KEYWORD" with the filter of "Groups" in the Facebook search bar. To browse different groups and sort by interests, use Facebook's discovery feature. If you sell local products, you can find local buy-and-sell groups here.
Your task: Find 10 to 20 relevant Facebook Groups and add a comment, telling people about a YouTube video you're proud of. If you don't want to do this manual work, outsource to a freelancer using Upwork.
8. Promote with Subreddits
Reddit users organize themselves into subreddits. These are communities based around a topic. Find 10 to 20 subreddits and tell people about your YouTube channel.
If your content is horrible and not relevant to the subreddit, Redditors will make fun of you and kick you out of the subreddit. A good rule of thumb for marketing, though, is to only promote and advertise once you have an amazing product. Otherwise, as marketing legend Dan Kennedy puts it, "marketing only increases the speed people find out your product is awful."
Your Task: Find 10 to 20 subreddits and post a link to a YouTube video you're proud of. I wrote a comprehensive guide to finding subreddits here.
9. Create searchable titles
I also asked Cochrane if he had any simple optimization techniques that people tend to overlook. He recommended spending a few minutes creating SEO-focused titles and descriptions.
"The best thing you could do is create YouTube titles and descriptions that have the most relevant search terms in them," says Cochrane.
"An easy way to test is to start typing into the YouTube search bar the words you WERE going to use in your title. Which search results come up? Now try other words (one word at a time because YouTube will autofill based on popular search terms) and you can see what other people are ACTUALLY typing into YouTube and see how many results those search terms give you."
Your Task: Use YouTube's autofill feature to create SEO-friendly titles and descriptions.
10. Translate popular videos
It's hard to find a winning YouTube formula. But once you hit gold, you need to focus your efforts on replicating success.
After publishing for a few months, you'll likely have a few videos that resonate. I recommend translating these popular videos to a few languages (such as German, French, and Spanish). This helps you rank in international markets, gain new free YouTube subscribers, and expand your reach. It's always a good idea to add subtitles to every YouTube video as well.
Your Task: Hire a translation company to turn your top-performing YouTube videos into international hits.
11. Expand your reach with Facebook, Instagram, and Twitter
YouTube is a fantastic way to attract free subscribers. And often what works on YouTube can also work on Facebook, Instagram, and Twitter video.
Expand your reach by publishing your YouTube videos on different social networks.
With Hootsuite, you can do this pretty quickly. Use Hootsuite to upload and schedule your YouTube videos—and then publish that same video to other video networks such as Facebook, Instagram, and Twitter.
It's also easy to use our video integrations—such as the amazing tool Vidyard—to access detailed video and conversion data.